Father Thomas Higgins, Pastor of Holy Innocents, reached out to Bob and Pat Smiley, the Transition Team representatives from St. Joachim. The Smileys were invited to meet with Father Higgins at the parish rectory. We met today. The beginning of the meeting was very cordial with Father asking how everything was going and we asking about his work. Father shared with us, as he has said from the beginning, that he believed there should be a Catholic presence, a church, in Frankford.
This pastoral planning process was long and arduous for all. That we can all agree on! Father told the Smileys that he had made two proposals himself suggesting first that St. Joachim merge at Mater Dolorosa and St. Joan of Arc at Holy Innocents. When that was not accepted, Father tried again with St. Joachim and Mater Dolorosa merging with St. Bartholmew and St. Joan of Arc merging with Holy Innocents. Again, that was not accepted. The Smileys thanked Father for his efforts and believe that someone in the Archdiocese will have the wisdom to overturn this unfair and unjust decision.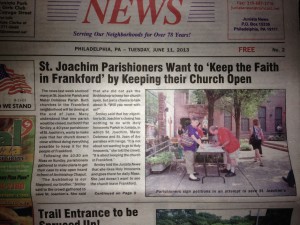 As it became clear that the Smileys would not cease trying to "Keep the Faith in Frankford" by keeping one Church open in Frankford, Father expressed concerns that the Smileys would not be able to truly "be on the same page" with Father and the rest of the Transition Team. The Smileys, especially Pat, restated their committment to helping in this important process while acknowledging that, according to Father, we wanted the same thing, a Catholic presence in Frankford. Pat Smiley asked if either Smiley had done anything to warrant or cause these feelings. Emails Father has received from the Archbishop, Monsignor Rodgers and the latest article from the "Juniata News" titled "St. Joachim Parishioners Want to 'Keep the Faith in Frankford' by Keeping Their Church Open are evidence of the successful efforts that St. Joachim parishioners and supporters have demonstrated regarding the unfair and unjust decision to close St. Joachim. Father indicated that we were not accepting of the Archdiocesan decision to merge our parish. Father felt this gap was too big to be able to be bridged and he was not comfortable with the Smileys remaining on the Transition Team. As of today, the Smileys are no longer on the Transition Team. The Smileys expressed regret that Father felt this way and wish the entire Transition Team and staff of Holy Innocents only the best and many blessings on their efforts.