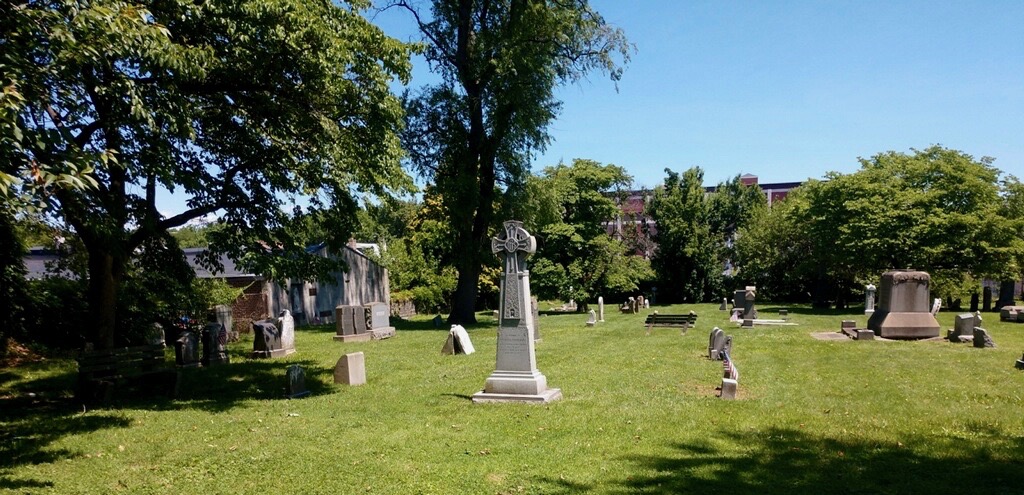 Latest Blog Posts
"Friends Bring New Life to St. Joachim Cemetery"
About Us
The Friends of St. Joachim Cemetery is a Subcommittee of Keep the Faith in Frankford, a 501(c)(3) nonprofit corporation and Holy Innocents Parish.
St. Joachim Cemetery is the final resting place of over 2,400 souls, with the first burial dating back to 1848. These people were predominantly Irish Catholic immigrants and their families from all areas of the City of Philadelphia.
If you have an interest in the welfare of St Joachim Cemetery, then we are looking for you to get involved and join us. We have many ways that you can help us!
We need some able-bodied volunteers that are able help with cleaning up the cemetery. We will be removing some excess branches, overgrown bushes and trimming back some low hanging limbs. We will be restoring headstones and benches in the cemetery. At the same time, you will learning about the history of the cemetery and those who are buried there.
We are also planning to develop the capacity to help you with your genealogical research sometime later this fall. So join our mailing list for updates!
Please contact Joe Taylor @ [email protected], or text to 215-360-6818. The Friends of St. Joachim Cemetery can also be reached via USPS mail to 5942 E. Roosevelt Boulevard, Philadelphia, PA 19149
Thank you for your interest!