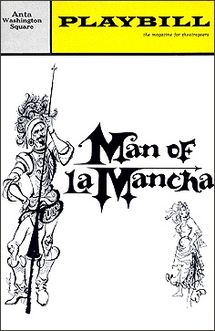 God never asks us to do anything easy and neither does the Pope with his belief of mercy for all. Every time I want to get angry and ask for God's wrath and mighty justice, I struggle with having compassion and mercy towards Archbishop Chaput and Father Higgins for their actions in closing our two Churches in Frankford. Their ease in refusing to see the hurt, the damage done to the faith and to the faithful, not just in Frankford, but throughout the Archdiocese truly boggles my mind. I choose God always so I choose mercy. Whether your Church remained open, was closed and merged, or now, partnered with another parish, we are all affected as we are all members of the "One Body of Christ".
I seek forgiveness from all those whose parishes started closing in the struggling urban areas of our city starting in back in the late 1980's and 1990's. I'm sure I felt sadness as my Mother's beloved parish, Our Lady of Holy Souls, went through many transitions, but is still alive as Our Lady of Hope. Where was my voice in outcry at the beginning of the abandonment of our city? If you haven't read this post, "Dooming Us To Repeat History" by David Harris, please take the time and inform yourselves that this effort, especially closing Churches within city boundaries, began long ago. So many people that I've met have told me they've attended Churches throughout our metropolitan area that were closed, merged and closed again. The sadness is real and did this have to be?
Well, that's why we need to be the people of La Mancha? Who are the people of La Mancha? You and I should consider ourselves people of La Mancha! We are very real – we believe that we can affect change – and those of us who opposed the severely-flawed Area Parish Pastoral Planning Process can take heart today that we did, ultimately, affect change for those parishes undergoing the process after us. There's a new model the Archdiocese is using, "Partner Parishes" where a Church is not closed but partnered with another nearby. The "Partner Parishes" share a Pastor, staff and combine their Parish Councils. However, since each Church remains a Parish, they each have their own Finance Council. It seems this model has already been used in other Dioceses – why was Philadelphia so slow to adopt it?
David Harris shared with me earlier this week, the January 10, 2016 Weekly Bulletin from Nativity of the Blessed Virgin Mary regarding the outcome for the five Port Richmond parishes in PPA 570. You may remember they were granted additional time last year to more fully come to a consensus on their futures. (I checked the other parish websites but the weekly bulletin for this week was not yet posted as of this writing.) You can read their decisions that have been submitted to the Archdiocesan Strategic Planning Committee and the Archbishop and the explanation of how they arrived at them pictured below here on page 3.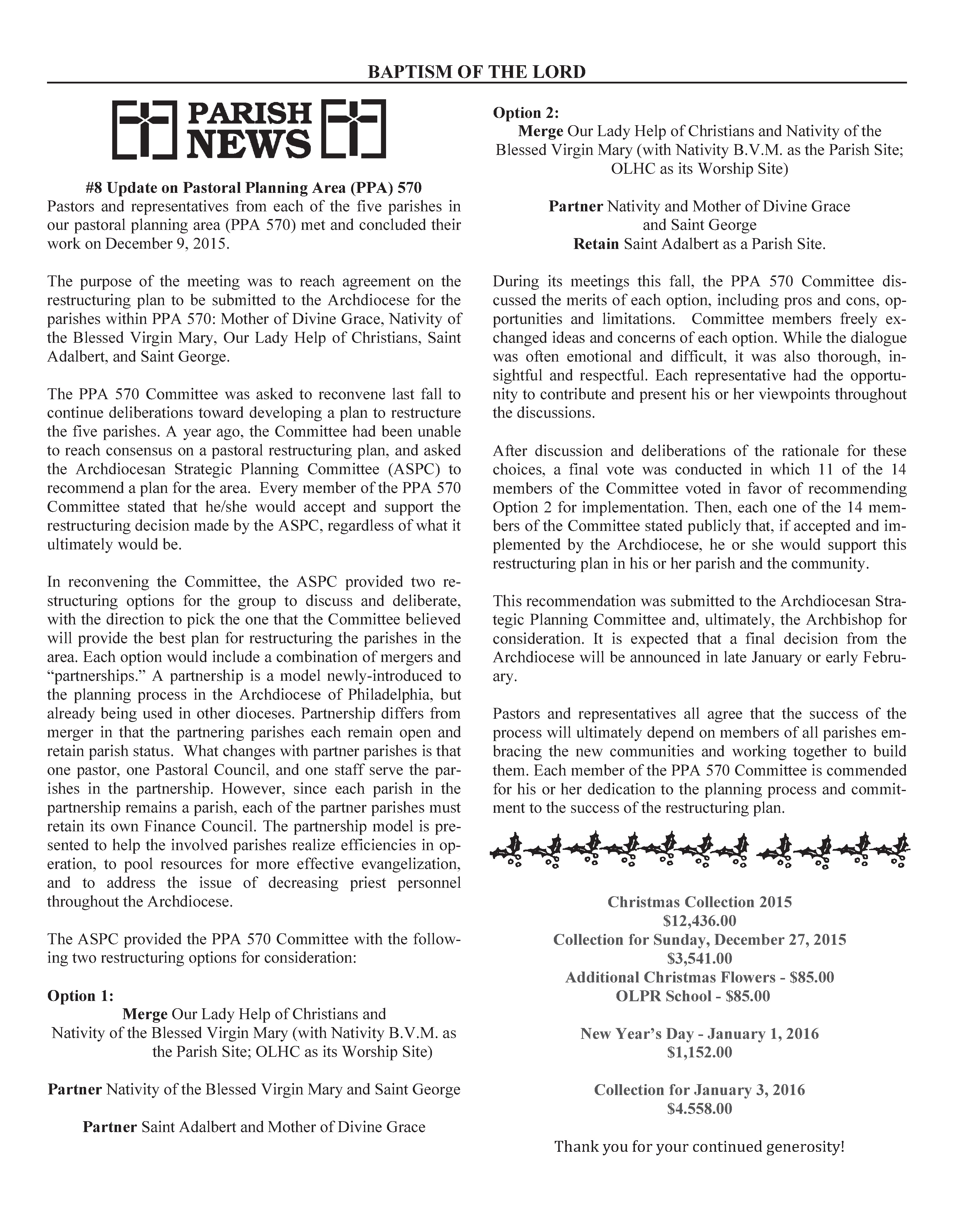 We pray with the parishioners of Our Lady Help of Christians, which will become a Worship Site of Nativity BVM that their Pastor has the mercy to see to it that they have a Weekly Mass celebrated there at the Worship Site. That was all we wanted in Frankford – a weekly Mass. As many have said, "What's so hard about that?"
What has Archbishop Chaput, the Archdiocesan Strategic Planning Committee and, hopefully, the Pastors learned about this PPA Process? A lot and it shows. Here are some changes to the process since we underwent it in 2012-2013:
Meetings were held to "reach agreement". For PPA 560 (the faithful in Harrowgate, Frankford and Juniata), the meetings were simply to get it done.
When "the Committee was unable to reach consensus", they were given more time.PPA 570's experience reflects a real process with invested members treated respectfully and "had the opportunity to contribute and present his or her viewpoints throughout the discussions". The antithesis of what happened in our process. In PPA 560, we had two Committee meetings and then it was between the Pastors. Father Higgins and the Archdiocese ultimately decided.
"Every member of the PPA 570 Committee stated that he/she would accept and support the restructuring decision made by the ASPC, regardless of what it ultimately would be." The committee members also had to state this later "publicly". Someone didn't want trouble after the decisions were made. I went to our archives to see what I was doing when St. Joachim first closed. Take a look here – Keep the Faith in Frankford. As a member of the Transition Team, I "walked the walk" and gave the "new" parish of Holy Innocents the openness they deserved. I attend Holy Innocents but fervently believe that we in Frankford need and are worthy of a weekly Mass.
As already explained there is a new,  to Philadelphia, "Parish Partnership" model. Who has the courage to "right the unrightable wrongs" to parishes that didn't have this opportunity for consideration? It only leads us to believe that once the Archdiocese took the assets of the 46 plus Churches closed/merged, they had "righted their financial ship" and didn't have to take such drastic measures. We believe those drastic measures were never needed had the Archbishop and our hierarchy been straightforward, honest and transparent with us rather than using the guise of the PPA process. Real estate, you're money is in real estate was the rallying cry of those advising our Archbishop!
Keeping the finances separate is a good idea and there must have been some trouble or feedback about combining financials earlier. We estimate, and have proof from financial information shared by Father Thomas Higgins, Pastor, Holy Innocents, that rental income from St. Joachim School was $364,505 and Mater Dolorosa $231,952 for two years totaling $1,190,914 plus Mater Dolorosa had over $900,000 in the bank thus the assets of Holy Innocents gained over $2 million dollar when we both closed. Father Higgins, at the time was Dean, and we believe there was a real conflict of interest. Nevertheless, in spite of our contributions, Father Higgins reports as of this coming fiscal year (2016), Holy Innocents is projecting a loss of $776,871.00
Partnering allows "each parish in the partnership (to) remain a parish". The parish of St. Joachim was suppressed; we're appealing and believe no decree can suppress a parish community. It doesn't work that way. We have had a parish in Frankford for over 170 years when 23 men and women first asked for one. We will not let our forebears down.
"Pastors and representatives all agree that the success of the process will ultimately depend on members of all parishes embracing the new communities…" Here, we can give you all real advice. Don't fire people from the Transition Team simply because they used their rights as members of the laity to file a Vatican appeal. Don't say "the decision is already made and we are not considering any changes." "Don't tell your new parishioners that "As long as I'm the Pastor of this parish, nothing is going to change". Talk about self-fulfilling prophecies!
Father Higgins has refused to allow us to use St. Joachim for either private or public worship except for the occasional funeral, wedding and annual Feast Day Mass. The Congregation of the Clergy in January, 2015 established a precedent in the Diocese of Greensburg in Western Pennsylvania that every Worship Site also have a Mass on their Dedication Day. We wrote and emailed Father Higgins and he ignored us. We have looked to Archbishop Chaput to help us gain justice for Frankford as we have been totally ignored within Holy Innocents. St. Joan of Arc, a Worship Site, has a weekly Mass.
We celebrate with our brothers and sisters in Port Richmond and keep all those, especially those of Our Lady Help of Christians in our hearts and prayers. Our Lady, Help of Christians, pray for us! The people of La Mancha are with you all as we continue our efforts (to reopen St. Joachim and once again and to have a weekly Mass in our community) and as you await the final decisions of the Archdiocesan Strategic Planning Committee and the Archbishop in late January or early February. We're very much aware that such recommendations have not always been so easily accepted. St. Joachim was supposed to stay open, too! The Holy Spirit is with us and our faith is strong! The people of La Mancha still believe that for us things "are impossible but with God, all things are possible" (Matthew 19:26).
Here's a soulful rendition by Luther Vandross of "The Impossible Dream"! Thank you for reading and enjoy!