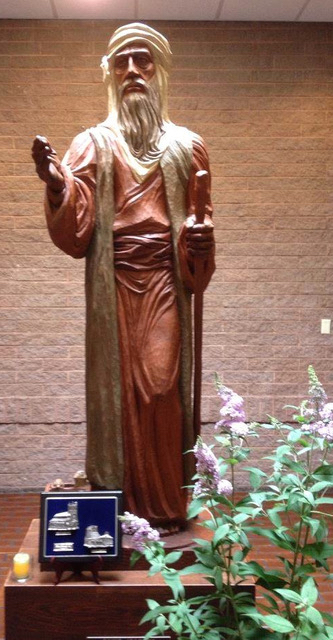 Tomorrow, Saturday, July 27, 2019, 4 PM, St. Joachim Church, 1527 Church Street, Phila., PA 19124, the St. Joachim community will gather to celebrate our 6th Annual Feast Day Mass. Will you be marching in with the angels and the Saints coming to honor Sts. Joachim and Ann(e), the parents of our beloved Blessed Mother and the grandparents of Our Lord, Jesus Christ?
"All are Welcome in This House!"
   "¡Todos son bienvenidos en esta casa!"
Let me share with you a few reasons why I'm more excited about our Feast Day Mass than our first time seeing the Pony Penning and Auction here on Chincoteague Island!!
In 1843, 23 Catholics got together and discussed the need for a Catholic Church in Frankford. Land was bought at Harrison St. and Main St. (Frankford Ave.). Many people felt this location was out in the fields. Bishop Kenrick sent Father Forrestal to Frankford to see if a church was indeed warranted. Our congregation was small but big enough. In 1844, Dr. Lamb donated land at Franklin (Griscom St.) and Pine (Church St.) where St. Joachim's is now. The parishioners sold the other land for a profit. Moral: Sometimes, we may not make the right choice but eventually, we get it right, with God's help!
At about the same time, the Philadelphia Nativist Riots, aka the Philadelphia Prayer Riots were taking place. The Irish American immigrants fueled an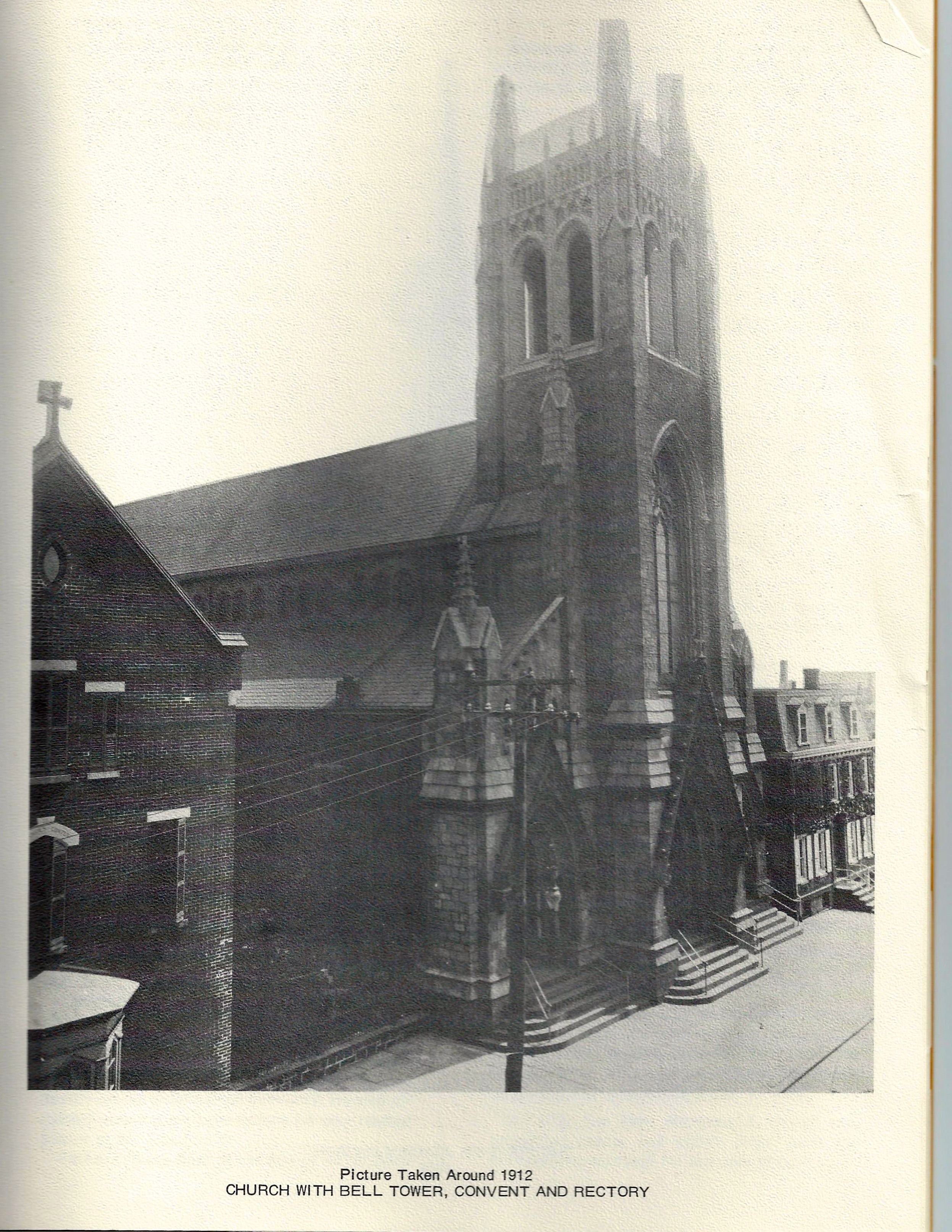 anti-immigration feeling in the city and many felt they were trying to remove the Bible from public schools. St. Michael's on 2nd St. and St. Augustine's in Old City suffered major damage. These rioters were coming to Frankford next for us and the Frankford Arsenal but Mayor McMichael contacted the Commander and a letter was sent to ask for forces from Fort Columbus in New York to protect us. Moral: It is God's time, not ours that determines what happens.
A church was built by 1856 but we outgrew it and a new cornerstone was laid in 1874 and completed in 1880. Sadly, that Church would burn down in 1978. A new Church, at the cost of almost $2 million would be built and dedicated on December 13, 1981. Moral: Faith can build Churches.
The Area Pastoral Planning Process would determine that as of July 1, 2013, St. Joachim, Mater Dolorosa and St. Joan of Arc would merge with Holy Innocents Parish in Juniata. Ascension Parish had already merger with HI. There would be no Catholic Church in Frankford. Keep the Faith in Frankford filed an appeal and with the support of the St. Joachim community and the Frankford community, we would meet weekly, endeavor to do good works and pray to Padre Pio that our Church would open again. Moral: Fight for what you believe in!
In July of 2016, the Capuchin Franciscans of the St. Augustine Province would be buying and renovating our former Convent to house the Padre Pio Friary. The Brothers would also operate the Padre Pio Prayer Center at St. Joachim Church. Moral: God does answer prayers and miracles can happen!
This is our history that we celebrate, our present time that we celebrate and going forward, a faithful future to doing the will of God in the larger Fran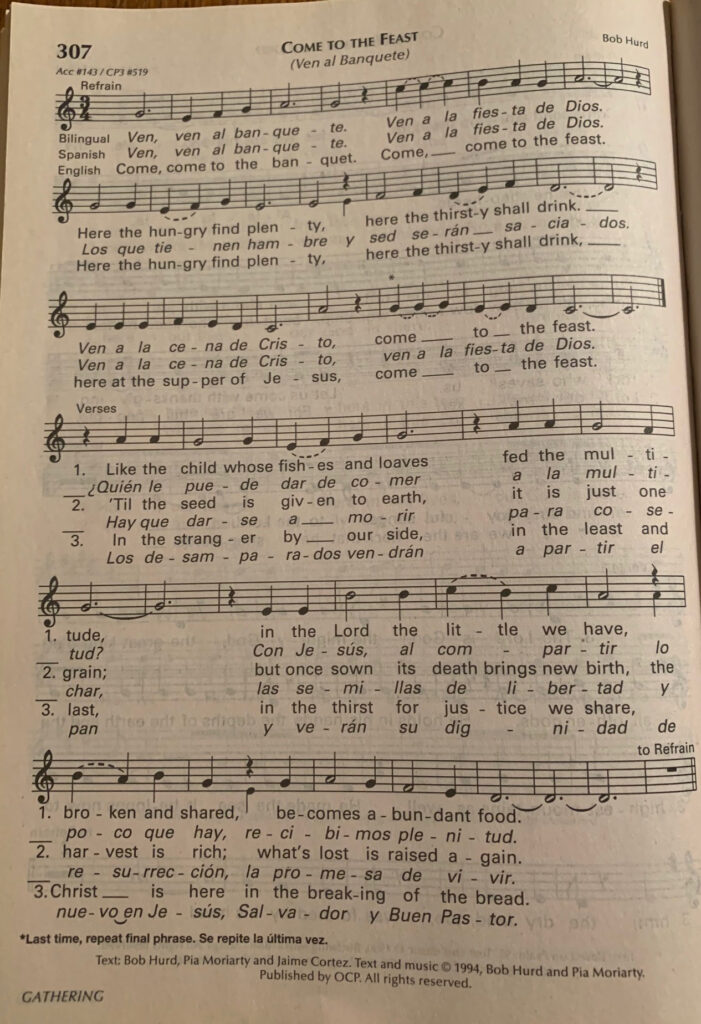 kford community!
We need God; We need His Word; We need to be in Communion with Him! Join us tomorrow and let Sts. Joachim and Ann, their example and unconditional love for their families heal us and our families and bring God's peace into our hearts so that we, too, can share it with others and Keep the Faith in Frankford!
Our Mass is bilingual and here is all the music that you need to know! Please listen and get familiar with it!
Opening Hymm – Ven al Banquete/Come to the Feast – https://www.youtube.com/watch?v=D_6O-RqkMtI&list=RDD_6O-RqkMtI&start_radio=1&fbclid=IwAR2RAjURYyrN618824pKC3l4SsTZH-xfqpbpbTTZ5qCrupCUpKzqHIftW2g
The Gloria – https://www.youtube.com/watch?v=Wl9mHbXhsNA&fbclid=IwAR291Pp_BsONHskXuB5fDEXhQlQcIN7qRSOCJbSDrOy4ILTqn4QoPJI3qmc
Responsorial Psalm – https://www.youtube.com/watch?v=eqvDfXDjP2E&fbclid=IwAR1wmVec1yJ6rAVvMrMrZv5Ee2pNbJHfDXxrWwZBLSg3zLBLuPLV0JFHnck
Alleluia – https://www.ocp.org/en-us/songs/56158/recibieron-el-espiritu-que-los-hace-hijos-adoptivos?fbclid=IwAR2rXJ-HQkj_Hz189OUEVmXCicTCVt-CF9hkCbeXP400Pk29PAEWCVc1A8Y
Presentation of the Gifts – https://www.youtube.com/watch?v=94I07YCeqBs&fbclid=IwAR1M0kWufh24UATr9XbYwLtUK0v4kxDOSEGNwbfodLfjn2b5ZcMh9yAYV0g
Holy/Santo – Verse 3  https://www.youtube.com/watch?v=o71UzuImtsw&fbclid=IwAR22uaT7sQGZ2oSG1zqaexRuZxr5rGLvZZH-wJlgnLRLQKiuT5o3cHaNgnA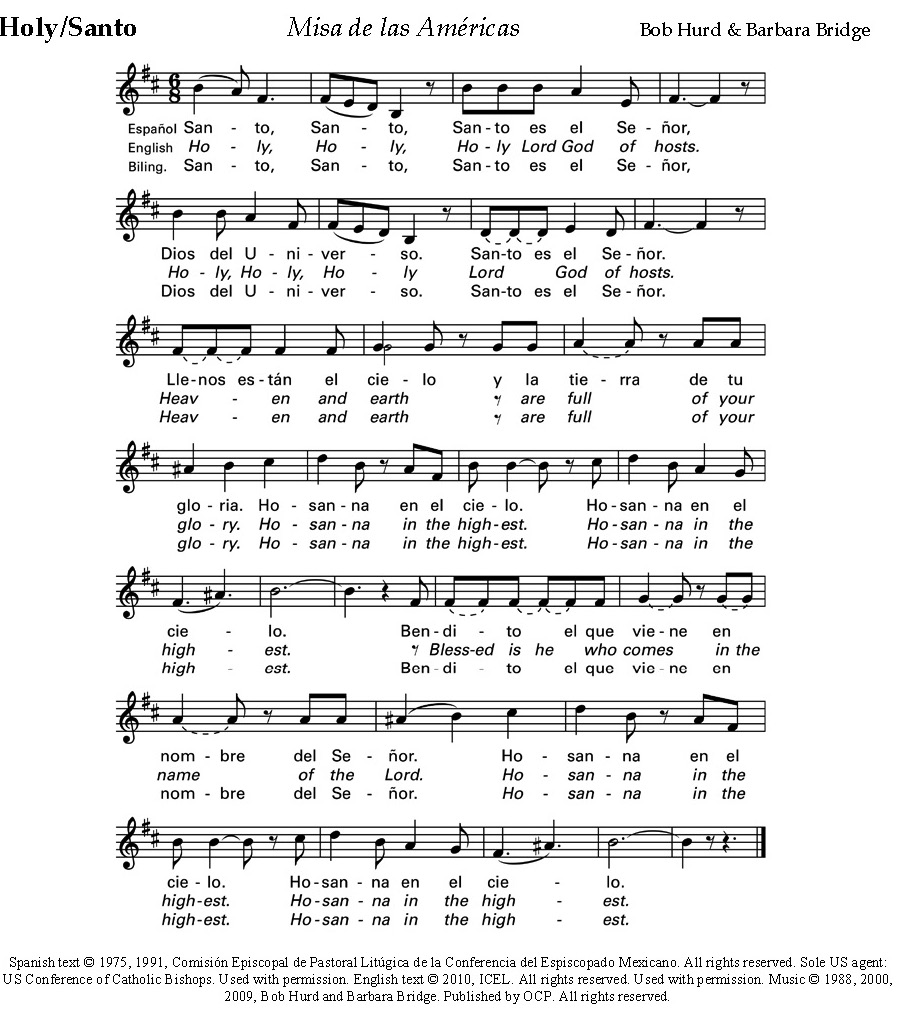 Memorial Acclamation –
https://www.ocp.org/en-us/songs/51457/memorial-acclamation-d-aclamacion-conmemorativa-iii?fbclid=IwAR1yYNbymvUtbGxrFoKtvj66DtT_x17ozkV56RmP5ctaPqpD5ebcR1WhsE8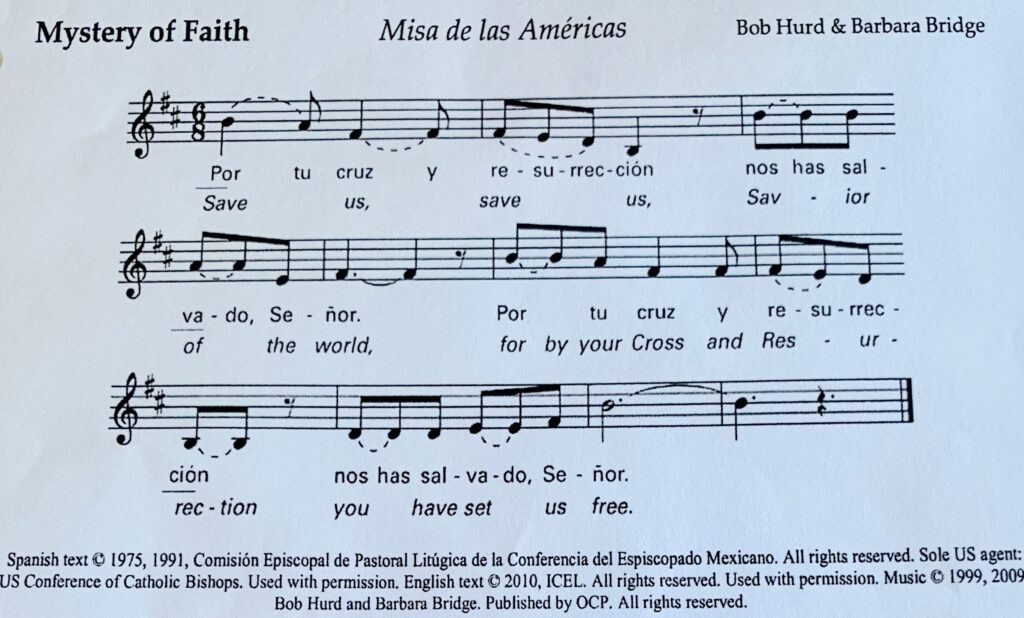 Amen – https://www.youtube.com/watch?v=6B1M-ogY5Bg&fbclid=IwAR3ZREq0hh0Uf9GygfJVtZH_wZMiFDrggfmwbfJ2u3GnjZxMh3HKyGfBSqA
Lamb of God/Cordero de Dios – https://ocp.org/en-us/songs/77831/cordero-de-dios-lamb-of-god?p=30109616&fbclid=IwAR06U1nAEWGFi62k0n2BXkIxC4DhzBsjiQi8Xwkq6n-stceeXttmpXSC3R0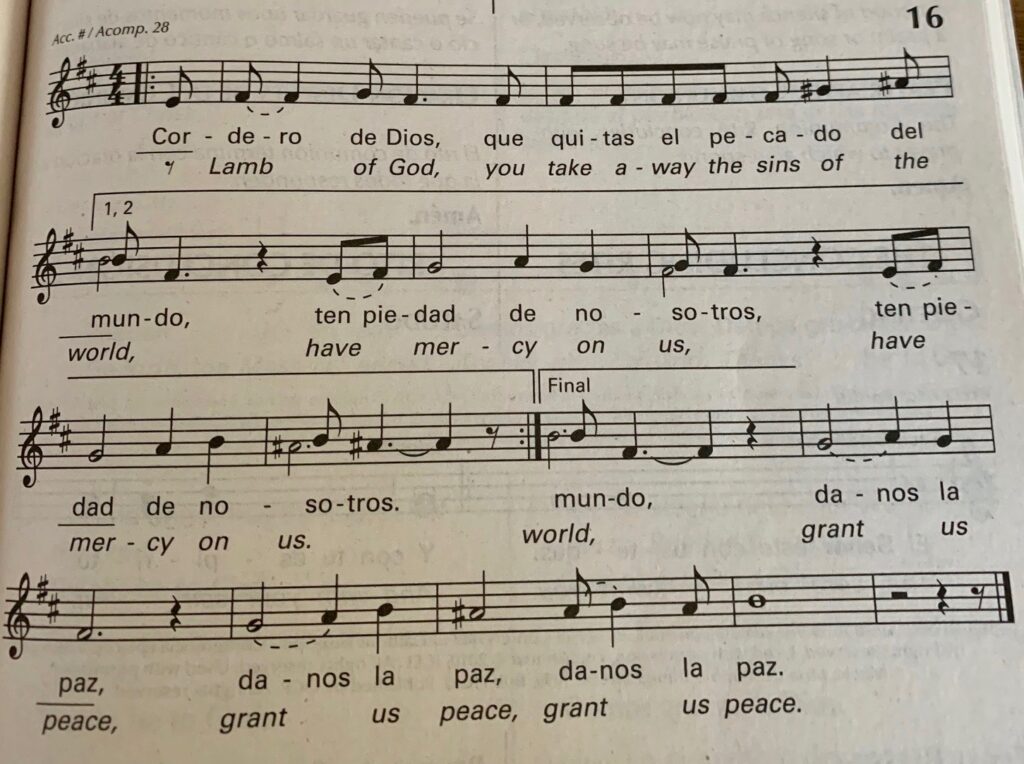 Communion Hymn – https://www.youtube.com/watch?v=xgebiXpGJnw&list=RDxgebiXpGJnw&start_radio=1&fbclid=IwAR2rNtPUa0uC0bgVJdGmHGsk9nzbVTkGVN2Kc0aeuxOrNbtF7-BgKrhOfJ8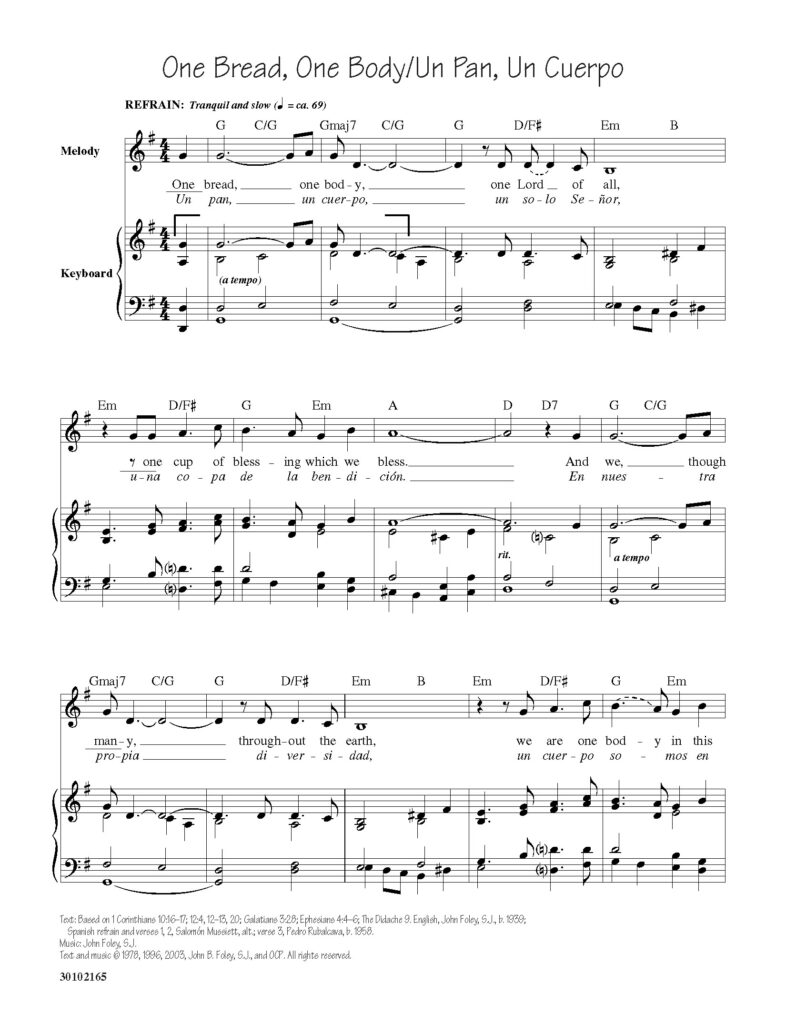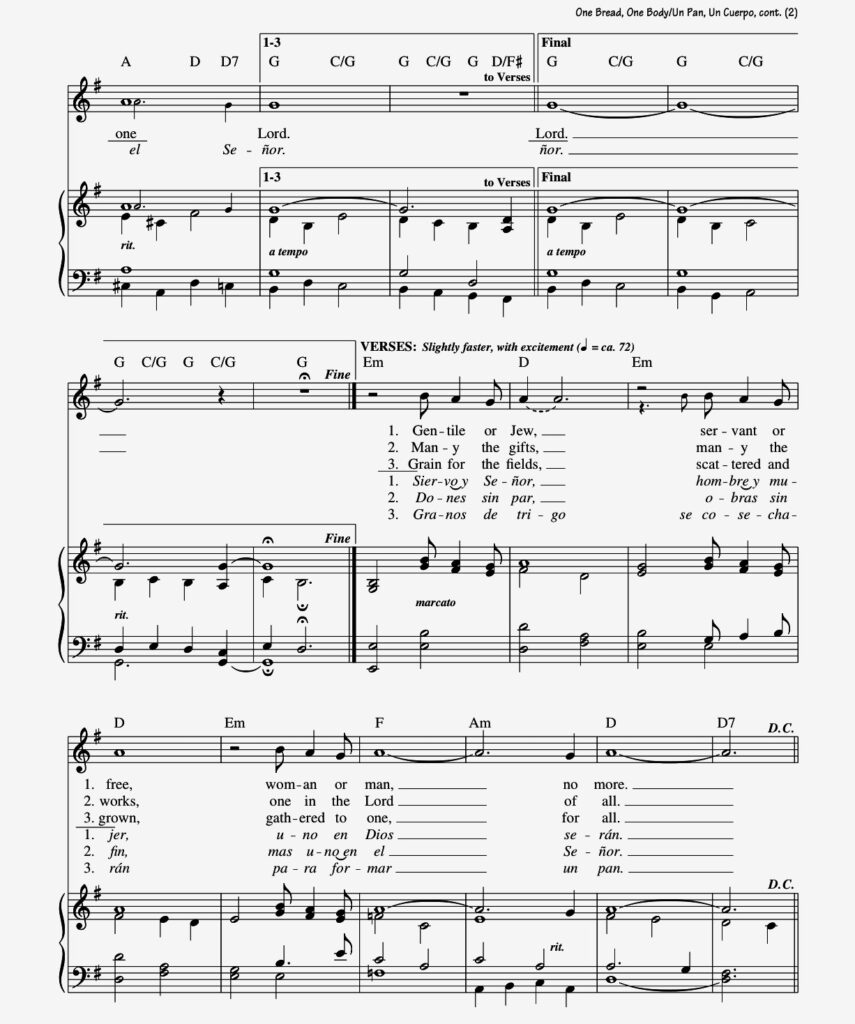 Closing Hymn – "Joyful, Joyful"  – https://www.youtube.com/watch?v=ObqN9c9Jro0&fbclid=IwAR2nl__-jMfKwLKLPIcC9bjihDoYqlmMPSsxHDJ_c1arHAttMDhmmb3sxUw
We hope to hear your voices tomorrow! God bless you!