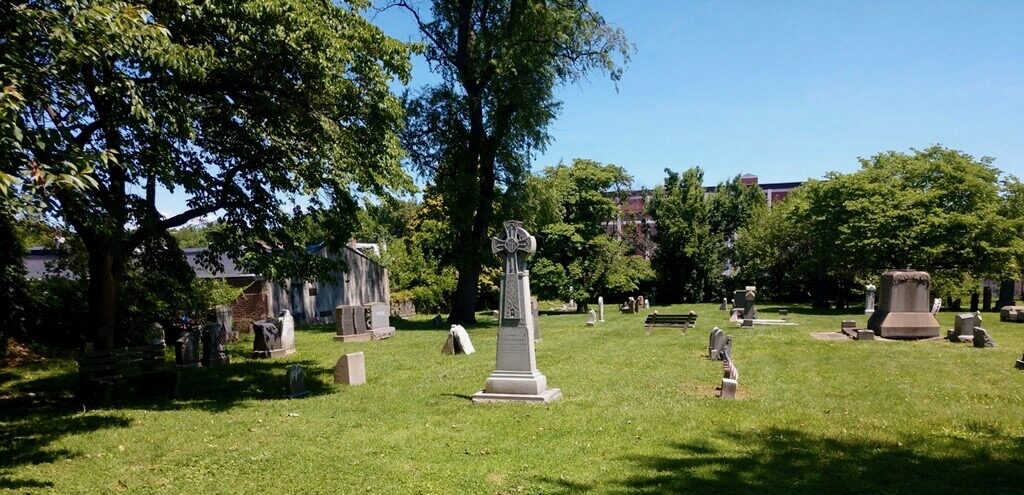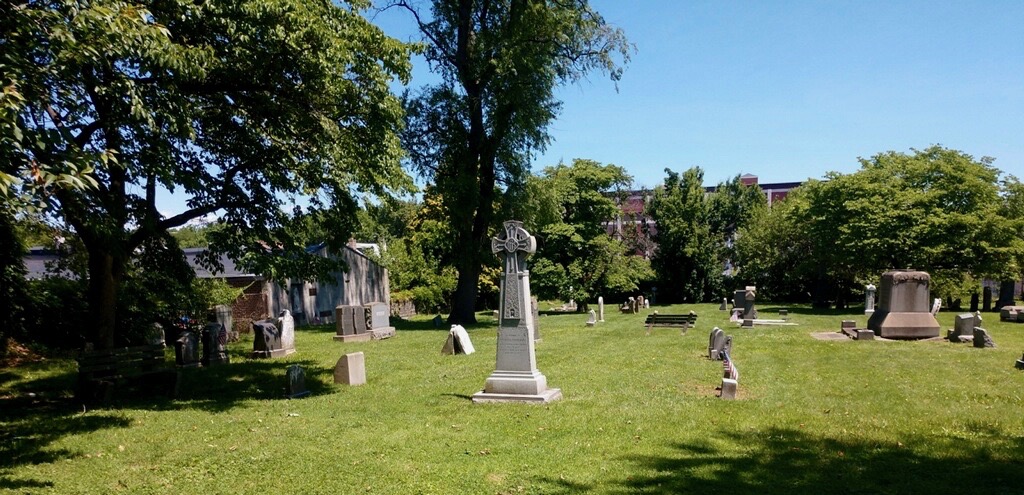 A very special day! Keep the Faith in Frankford launched the first project of more to come for The Friends of St. Joachim Cemetery. Joe Taylor co-ordinates this effort and he approaches it like many things he's done before – with a list of tasks. A holdover from his Navy days perhaps but Joe has been invaluable with his lists of to-do's and sets of plans for any project we've done!
Joe, your skill helped you and the Friends to be so successful today! Well done and we owe you, Maureen Taylor, and all who helped today our thanks!
Joe and Maureen Taylor are the "perfect people" to head this effort. Before the Capuchin Franciscans arrived, Keep the Faith in Frankford had a committee we called, "St. Joachim Sanitation Saints". We would periodically clean Griscom St. along the rectory and cemetery and Church St. in front of the Church. Before this year's Annual Feast Day Mass, Bob Smiley and I saw Joe and Maureen at their house and they mentioned being down around Church earlier that day. I asked, "What were you doing there?" and was told, they were cleaning up in preparation for Mass. Good people!
It was a hot Saturday morning in Philly yesterday – a heat alert was in effect by mid-afternoon, yet all who came out in the morning could have stayed home, done other things or nothing at all, but they wanted to help clean up the final resting place for people they might have known or for people that they didn't know at all. As we continue this effort, we do want you to get to know the stories of the people who are buried here. These are the people who "kept the faith" for us for over 175 years.
Gina Christian, Senior Content Producer and Host of InsideCatholicPhilly.com podcast, came by, today, too! Thank you, Gina, for getting the word out there for us on Catholic Philly! Continued blessings and much success in your efforts!
Many thanks, Fr. Tom Higgins, Pastor, Holy Innocents Parish, for approving this project and for supporting it with your hard work, today, too. Father has always been supportive of our programs to honor those Veterans who are buried in our cemetery. To you, Father, Joe and Maureen Taylor, Brian McCloskey, Tom McAvoy, Julia, Lorenzo and Sal Roldan and Sean Brassil, a hearty and grateful "Thank You" for your efforts. May God continue to bless you for your generosity of time and talent!
To those who were not able to come today, we thank you for your donations of money and wanting to help, and to keep informed, you can find us on Facebook at https://www.facebook.com/groups/thefriendsofstjoachimcemetery/ and on the web at https://keepthefaithinfrankford.org/the-friends-of-st-joachim-cemetery/
Here's some of what The Friends of St. Joachim Cemetery were able to accomplish today! See you next time!
[embedyt] https://www.youtube.com/watch?v=QXiwfTSunrE[/embedyt]