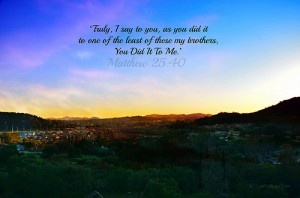 We participate in the Dining with Dignity Program hosted by St. Mark's Episcopal Church. Check out this article which explains how this program started many years ago. The program has changed over the years and many groups take turns preparing and serving food to those in our area who are in need every week. Keep the Faith in Frankford participates at least every other month. Yesterday, we arrived at 10 AM to prepare 250 bag lunches. In the summertime, there is no cooked lunch so each diner receives two bag lunches. We fed 100 local residents yesterday with enough to give extras to those who asked for them. If you would like to help us in this effort, donations are gladly accepted on our website or contributions can be sent to Keep the Faith in Frankford, 4829 Penn St., Phila., PA 19124. (Our 501(c)(3) tax exemption application is under review with the IRS and we should have our tax exemption by the end of August. That status becomes retroactive to when we applied – would you believe November, 2013?)
Members of St. Joachim Parish and their family and friends are very generous with their time and effort in this worthy cause. It is awe-inspiring to see the goodness in our people who are willing to do so much for others – and you know "It is more blessed to give than to receive" (Acts 20:35). We are also very humbled by those who come every Saturday to participate in this program who struggle with the current economy and the challenges they are given but still believe in the Lord's many blessings.
While Pope Francis has helped us to see our faith in a new way, he reminds us in "The Joy of the Gospel", §187, that the "old question always returns: "How does God's love abide in anyone who has the world's goods, and sees a brother or sister in need and yet refuses help?" (1 Jn 3:17)
Special thanks to: Pete S., Joe and Maureen T, Al and Mary McK, Jack H., Sabina B-T, Kelly K. and Brian S., Nona B., Barbara J., Florence S., Bill, Marge and Morgan McG., Greg M., Maryanne S., Kate M., Mary C., Elaine and Natalie M., Tina D., Mary M. and Deacon Phil for his "guiding wisdom" and Me.
(Please click a photo and then you can scroll through the gallery to see these "beautiful people"!) God bless!
photo credit: Art4TheGlryOfGod via photopin cc