This past Saturday, July 25, 2015, we celebrated the Third Annual Feast Day Mass at St. Joachim in Frankford, Phila., PA since we merged with Holy Innocents Parish, Juniata. Mater Dolorosa in Frankford and St. Joan of Arc in Harrowgate also merged with Holy Innocents Parish. Ascension Parish merged the year before. Yes, you are correct, that's quite a few churches. These mergers left Frankford without a Catholic Church. St. Joachim's beginnings date back to 1843. No Catholic Church in Frankford.
I have been blessed with many gifts from the Lord. Humility is one I really have to work at and, if you know me, you understand that. But God has certainly humbled me over these past two years – every time we need to demonstrate the level of faith that the members of St. Joachim Parish and Mater Dolorosa Parish still have, I am in awe. Saturday was another occasion when I felt so grateful for those who continue to support and believe that Frankford needs and deserves a Catholic Church.
You may remember that we wrote to Archbishop Chaput after the unveiling of the World Families' icon to say that we felt that St. Joachim, Jesus' grandfather, was too much in the shadows and grandfathers and grandmothers play a very active role in family life these days for many reasons. Well, the Archbishop thought we were just looking for things to get upset at and as, is his way, the icon is perfect and will not be changed. Take a look and what do you think? I remember my grandfather, James, as a larger than life person. He had one gold tooth. I can still see myself looking up at him and my Mother being devastated when he passed rather early. One of our grandfathers, Jack Hohenstein, wrote a haiku:
Holy Family Icon
"Where is Grandfather?"
"He's hidden in the shadows."
Humility rocks!
St. Joachim and St. Ann are the patron saints of grandparents. Father Thomas Higgins, Pastor of Holy Innocents, had our grandparents stand during Mass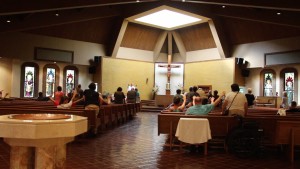 and gave them a blessing. St. Joachim also accomplished and delivered a surprise gift. At the end of Mass, over 100 people were in attendance, he offered to "continue the conversation" after we had our pretzels and water ice outside, supplied of course, by Keep the Faith in Frankford. We would have had even more people at Mass but we knew the air conditioning was not working. Relive our celebration of St. Joachim and our community with us.

At this point, 20-25 people returned to talk with Father Higgins. I admired his willingness to listen to the frustration and pain of the people since St. Joachim closed. This was never about a building; our efforts were aimed at the Archdiocese whom we felt abandoned Frankford and we would not allow that to happen.
Father wanted to talk about how we could be a more active part of Holy Innocents. He started out by telling us that Joyce Evans of Fox 29 here in Philadelphia interviewed him for a piece next month. He said if he could fill Holy Innocents, he would think about what he could do for us/other worship sites?
Father Higgins listened – Bob said it was for the "first time" and heard the people say:
We've lost respect for the clergy;
Take our money and then tell us that rental income can't be counted on for support though you used it to support Holy Innocents;
Wanted at least a monthly Mass in Frankford (overwhelming majority favored this but I said what would the people we are fighting for – the disenfranchised, the marginal, do the other 3 weeks?);
11 year old, Morgen, told Father Higgins, she wanted to worship in her own church because of her important memories and she wants to pass these experiences on to her own children;
Are the two priests of the House of Mercy in Kensington assigned to Holy Innocents? They will be going to assist in other parishes saying Masses. Since they have to say Masses why can't they come here to Frankford who has nothing?
Hardly anybody would have been here today had it not been for the efforts of Keep the Faith in Frankford and our Vatican appeal. (Why was this Mass "missing" from the parish bulletin. It was never advertised but announced at Mass. Did Father Higgins just want to see who would come after all this time?)
We knew that he was the "poster boy" for the Archdiocesan megalopolis church because he has 22 properties – now, he said he is down to 17
We rehashed the PPA process and the flaws, etc.
Why is it that whenever the laity ask questions, we are labeled as "disloyal Catholics"?
Why, now? Why is Father Higgins talking to us? We listened to:
Reasons why Father can't give us a Mass – maybe down to 2 priests in 9 months?
If we come over to Holy Innocents to fill it, to contribute…(the two rentals of our closed schools is over $50,000 per month and the tenants moved out. Holy Innocents is feeling the pinch. Is it just for the money?)
Did they know we were planning a future action at Holy Innocent by distributing information to their parishioners why we can't abandon Frankford?
It was obvious he wanted our passion and energy but what is he willing to give in return?
Many reasons, still, why we can't have something in Frankford. Not yet a discussion on how to make it happen. We'll have to see if this "conversation" bears any fruit. Again, Father Higgins, we bless you for being willing to be humble yourself, too. Luke 14:11 tells us all, "Whoever exalts himself shall be humbled and whoever humbles himself shall be exalted".