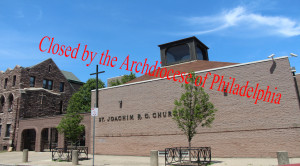 This post was written by Gregory Minetola, a member of St. Joachim Parish and Keep the Faith in Frankford!

Recently, Joe Taylor and I had a meeting with Fr. Higgins, Pastor of Holy Innocents and Dean of Deanery 12, Lower Northeast Philadelphia, and Joe Paesani, Business Manager. I would not want to comment on the specifics yet I will tell you that it was an open dialogue full of passion and principles on both sides. As I have reflected and prayed on that meeting, a few ideas keep playing in my mind.
The first thing that I have not be able to get past is the idea that they really think there is a Catholic Church in Frankford. When I made the statement there is not a Catholic Church in Frankford I was looked at in disbelief. Joe Paesani stated, "There is a Catholic Church in Frankford, it's Holy Innocents." Yes, Holy Innocents does share part of the 19124 zip code yet, we, in Philadelphia, are strongly defined by our neighborhoods. Not only is it where we live, it is where we have loyalty. Some, especially Archbishop Chaput do not understand that because, especially, in his case since he has been in Philadelphia he knows the stats but really doesn't know his people or the connections we, as Philadelphians, have. In a lecture at St Charles Seminary in Oct 2013 during the Q&A at the end of the lecture he alluded to the fact that Philadelphians often introduce themselves by which parish they are in. He stated no where else do they do this. That is right! We are deeply connected to our neighborhood and the parishes in them. There is a disconnect with our Archbishop. If you look at his public calendar he is very often somewhere else in the country or in the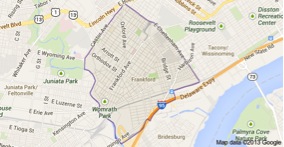 world other than truly leading his flock. If he was here long enough to learn about our neighborhoods he would learn that Juniata is 1.025 sq miles with 23,000 people to Frankford's 2.6 sq miles with 56,000 people. The question arises, How can one parish serve so much area effectively and with no one falling through the cracks?
It was interesting on their understanding of why we have an active appeal. They think it is only about the building. To a certain extent it is. It is our Church! In 1843, 20 people meet in a small home to consult and devise plans to build a Catholic chapel. They knew the people in the area needed it. Our ancestors saved, built and sacrificed during the depression for much needed renovations, scraped to send their children to Catholic School and volunteered to do things to make up the difference of what they could not contribute. They were doing it for their faith community. The understanding was that this was our Church with ties to the Archdiocese and in turn Rome. Well, one would say we have been baited and switched. A little known fact is that The Bishops changed that and put our churches "in trust" for the people.
Then, years later the Archdiocese of Philadelphia creates "the PPA process", which is copied around the country. Then, in our wave of parishes under study with little conversation with the people and very hush-hush meetings, it is decided that St. Joachim and Mater Dolorosa, which St. Joachim helped to establish for the Italian immigrants of Frankford, will close and in one document by the Archbishop dissolve and suppress 172+years of history, honor, tradition and leave the community with no church to worship in. Wait, didn't we build and maintain it? Why have they decided our fate? Church is not about numbers. Where two or more gather in his name! So it is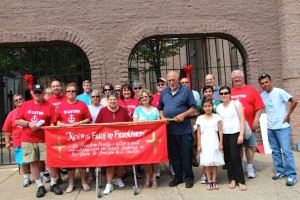 about the building even though it is the third St. Joachim Church. It is our ancestor's legacy and what they left for us – a comforting place where we can meet socially and spiritually.  Our Church is an inheritance from our grandmothers and grandfathers, mothers and fathers. How would you feel if after you parents died your childhood home was taken with no one asking?!! This is what has happened, Our church has been taken!
Fr Higgins and Joe made it clear that without the rental income from the school, we could not have been able to operate the parish.Those properties, too, are our ancestor's legacy as well. The rental income fact may be true but we did not decide. Pope Francis has called for a smaller church overall that reaches out to those in need. Should we have been the ones to decide our fate? Maybe a storefront church on Frankford Ave. Maybe we sold one or two of those properties? We were not given the chance, it was decided for us. When St. Joachim closed, in one of my letters to the Archbishop, I asked where all of the rental income from the school & convent building went. He,or someone writing for him, stated it stays in the parish. Since St. Joachim Church was closed in June 2013, the parish of Holy Innocents has realized $600,000 plus in revenue from the school alone not counting the convent. What the Archdiocese doesn't realize many people know is that parishes are required to keep a certain percentage of their funds in a Archdiocesan account that the Archdiocese borrows on and makes investments with.
Then there is the fact that Fr Higgins is the Dean of our Deanery and pastor of the merged parish. Is this conflict of interest? As he has said many times "I thought there should be a Catholic Church in Frankford, but the Archdiocese didn't think there should be".  Why would he say that if he didn't feel it was right or if he thought our Church could not be supported? One would thinks as the Dean he would say "I think there should be a Catholic Church in Frankford and I am going to fight for one". This is about obedience. The Archbishop likes to used this word especially with initial contact with us. The clergy with important positions know they have to be obedient to look good in front of their boss and keep those positions of power, potentially even move up. In 2011 now retired Msgr. Rodgers who was the mastermind behind the PPA process said "The role of the Deans is to offer a better means of communication between the Archbishop, the priest and the people". This quote is very telling. We are told what to do from communication handed down from our Archbishop never having a chance to participate in this process or in communication with the Dean and then Archbishop. This is the PPA process in a nutshell.
I was told to my face in this meeting that "There are very few Catholics in Frankford", that "The Parish was on life support", that "There will be no cooperation or collaboration as long as there is an active appeal", that "We are not going to have people look over our shoulders" , that "Lots of time and money has been wasted on this appeal", and "Don't continue".  Well, our ancestor's legacy, our history, our spiritual life and our neighborhood is too important to not continue.