Father Judge High School has been a prominent fixture in Northeast Philadelphia since 1954. My husband, Bob, attended Father Judge as well. It's interesting to note that Father Judge's boundaries were broadened in 1957 to help reach their enrollment of 3500 students and that's how Bob attended Father Judge while both his older and younger brother went to North! He's always been the man in the middle!!
Not so much is commonly known about Father Judge. But he believed in the power of the laity and that we are the ones to "Do Good! Be Good! Be a Power for Good!". The Church needs to focus on the laity as the center of a circle, if you will, with the clergy being the outer part of the circle. A circle symbolizes unity, cohesiveness, respect. Father Judge saw the great potential when the laity were viewed as real partners with the clergy in carrying out the missionary spirit of the Church.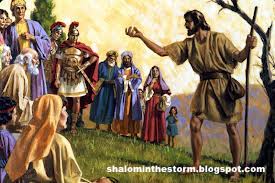 Earlier this month, Pope Francis raised the question of why so many people are leaving the faith. Read about it in this article, "Pope Francis and the Catholic Crisis". In this article, you'll find links back to a meditation from Pope Francis during Advent last year, explaining that by the power of Baptism, we are called to be prophets. That's right, you and me and everyone else who is baptized. Pope Francis' meditation from Dec. 16, 2013 – "The Eye That Is Opened".
Pope Francis concluded his homily recommending "a prayer over the course of these days, as we prepare for the celebration of the Lord's birth". He prayed to the Lord that prophets not be lacking among his people: "All of us who are baptized are prophets. Lord, may we not forget your promise; may we never grow weary of going forward; may we never close ourselves in through a legality that closes doors. Lord, free your people from the spirit of clericalism and come to their aid through your spirit of prophecy".
So, as we reflect on these final days of Advent, what can you and I do to more fully develop our powers of prophecy and to do and be the good in our world so desperately in need of our gifts and talents? How does this influence the work we do to reopen St. Joachim? How do we be a "Power for Good" as the Catholic presence in Frankford?