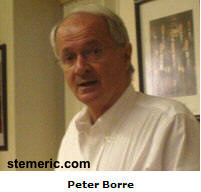 It just might be Peter Borre. He is our canon law consultant working with our Italian lawyers to appeal the decision in Rome to close St. Joachim Roman Catholic Church here in Frankford. Along with Mater Dolorosa, these two Churches no longer serve the Frankford community. Their loss has touched not only us but our community as well.
It has been my pleasure to talk with Peter on the phone. He is caring, insightful and tireless in his efforts on behalf of those he tries to help. I'm glad he's on our side. Here is an article from last year's Daily News about Peter's work and those he is helping. Titled, "National Advocate Could Be Local Parishes' White Knight", foreshadowed many of the current events happening in the Archdiocese.
One of the Vatican's top priorities is the "re-evangelization" of church members who have "drifted away," he said, but the Archdiocese "is going in the wrong direction.
You gotta like this guy!