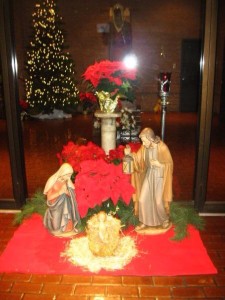 Yes, this was not what the Area Pastoral Planning Process was supposed to do! At the end of this process, we were supposed to have at least one Catholic Church in Frankford! Now, we have none! If that doesn't speak to the wisdom of this process!! But God does work in mysterious ways!
Christmas reminds us of this so very well. How would the Redeemer come to save us? The government would announce a census and all citizens had to return to their hometowns. Thus, Joseph and Mary (9 months pregnant) would have to make their way back home. Not finding anywhere to stay, an innkeeper let them use a stable. So, in this humble stable, and sharing his nursery with the animals, Jesus was born. A great and bright star would hover overhead and lead the Wise Men to this wisest of children. Those of us of St. Joachim Parish know what it is to be on the outside – to no longer have a true spiritual home. But has it weakened our faith? Have we become disbelievers? No, we are even more determined to reach out to others, who like us, know even better what it is to be marginalized, voices unheard and unwanted. Joseph and Mary must have felt pretty lonely and alone, too!
During our prayer service today, we sang "The First Noel"! This is a first noel for us, of sorts, too. The first year, in 169 years, there was not a Christmas vigil Mass or a Christmas Day Mass at St. Joachim. (The fire in 1979 disrupted the Church but immediately there was talk of rebuilding.) We have filed an appeal with the Vatican and cannot be sure of the outcome. The Congregation of the Clergy has ruled that Archbishop Chaput did not do anything canonically wrong. That does not change the unjustness or obvious preference of the Church here in Philadelphia to "follow" the monied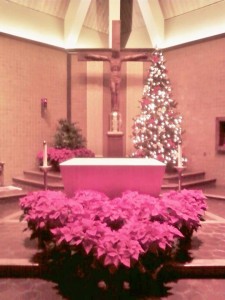 Catholics to the suburbs and insist that Catholics have left the city, so it's alright if they do, too!
But we have said, "No", that's not the right thing to do! We have met so many people during our efforts who have been touched in some way by St. Joachim and/or Frankford! Here we are! St. Joachim Parish is alive and well! St. Joachim Parish is telling all who listen our story, calling all who remember to help and asking those who want to give and give back to join us in our efforts to reopen the Church and open our hearts further to our brothers and sisters in Frankford.
This Christmas, we can celebrate that St. Joachim Parish has rallied together to keep united, to keep the faith alive and to hope that we are able to reopen St. Joachim.
Yes, indeed, God works in mysterious ways! May your Christmas be blessed in a special way this year and may we work to keep the light of Christ even brighter in our hearts in 2014!